The one and only fifth woman to be admitted to the Royal Academy of Paris, pastellist Rosalba Carriera was renowned for her unique technique in portraiture
establishing one's reputation
Raised in a lower middle-class background with her two sisters, Rosalba Carriera started her artistic activity by making lace-patterns – her mother's trade. When the industry's economy began to waver, Carriera had to find other sources of income to support her family.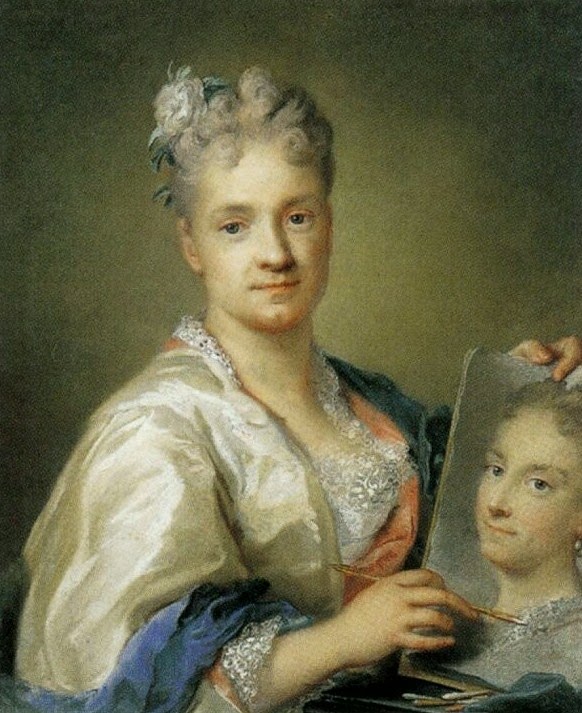 Trained by Jean Steve, a French miniature artist settled in Venice, she launched her career by painting on the lids of snuff-boxes, which popularity grew in the late 17th century on account of tobacco imports to Europe. As Venice became a landmark of the Grand Tour – an essential step in artistic education – she could benefit from the taste of connoisseurs and would-be painters for such boxes. Rosalba Carriera is credited to be one of the first artists to use ivory instead of vellum for miniature.
This technique requiring great care and attention to detail was used to decorate decorative objects or jewellery: lockets, rings… Portraits of celebrities, family members and potential spouses would be spread as such, for remembrance or as tokens of affection.
from miniature to pastel
By 1703, Carriera had completed her training in the workshop of the engraver Guiseppe Diamantini. She then specialised in portrait-making, almost exclusively in pastel. The choice of this genre led to commissions by Christian Cole, first Duke of Manchester and ambassador in Venice. Other portraits of influential figures included those of printmaker Antonio Maria Zanetti, Frederick IV of Denmark and August III of Poland who collected her drawings.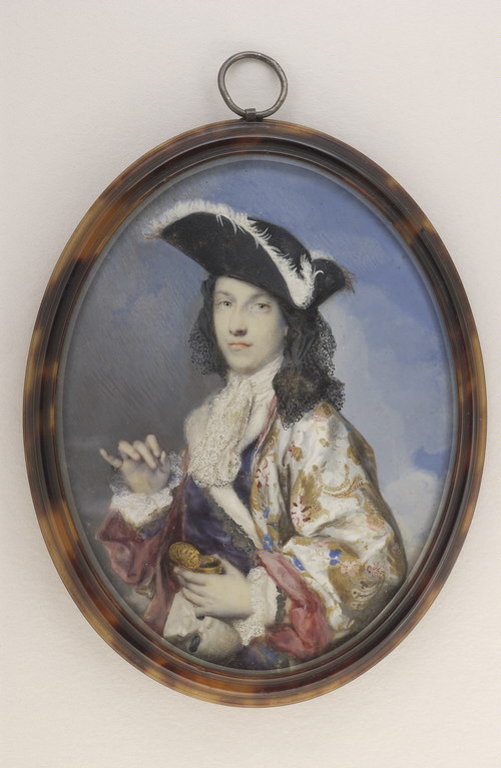 In 1705, Rosalba Carriera was appointed emeritus painter, a title granted to non-resident artists, by the Academy of Saint Luke in Rome. She perfected her pastel technique over the course of her career by enobling it, regarding it as serious practice. Traditionally employed for sketches, it was her favourite medium for portraiture, especially to enhance facial features.
She appreciated pastel's flexibility, allowing her to convey the inner psychology of each sitter through blended hues and its velvety aspect. She innovated by binding chalks together in order to achieve a wider range of colours. Besides, she used the various sides of white sticks across studies in charcoal to seize the glittering textures of lace and satin. Carriera's work is often reinscribed in the context of the Rococo, an ornemental style privileging illusionistic devices, twisting curves, subtle plays of light and tonalities (an expression of the Late Baroque movement).
To Paris!
In 1715, art collector and amateur Pierre Crozat paid her a visit to Venice, then invited her to stay at his 5 years later. For 18 months, Rosalba Carriera's triumphant sojourn in the Mecca of the Arts was marked by constant commissions from the French aristocracy and gallery outings. This was minutely recorded in her diary, which her great admirer, the Abbé Vianelli, had had published in 1793.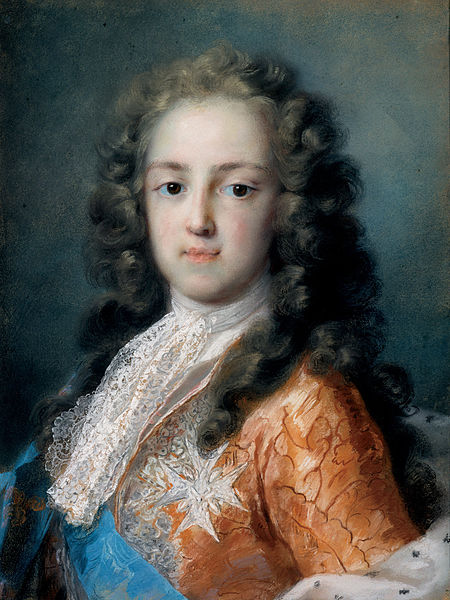 She made about 40 portraits of the Dauphin, young Louis XV, contributing to the change of taste for more intimate, spontaneous portraiture in bust as opposed to more formal oil pictures. To keep pace with this flow of orders, she was assisted by her sister Giovanna and her brother-in-law. She also executed allegorical subjects inspired by Ancient mythology.
Rosalba Carriera met with painters Antoine Watteau and Antoine Coypel, and influenced the work of Quentin de La Tour. She was elected member of the Royal Academy of Paris by popular acclaim on 26 October 1720: womensarttours.com/gendering-the-louvre-an-introduction/. If the Rococo style lost its appeal by the end of the 18th century, her style remained an inspirational model for Adélaïde Labille-Guiard and Elizabeth Vigée-Lebrun.
the grand tour
Rosalba Carriera was received by the Este family of Modenna in 1723. Along with Giovanna, she visited Parma. She went to the Austrian court in Vienna, where Holy Emperor Charles VI became her patron, his wife being taught drawing by the pastellist. This laid the foundation for the Alter Meister Gallery in Dresden.
Some drawings, such as the series on the continents, reveal her knowledge of current events. Following the great discoveries of the previous century, three other georgraphical areas had entered European knowledge: America, Africa and Asia. Personifications of those were not uncommon in the domain of fine arts, reflecting contemporary discourses on cultural differences through the display of archetypical attributes.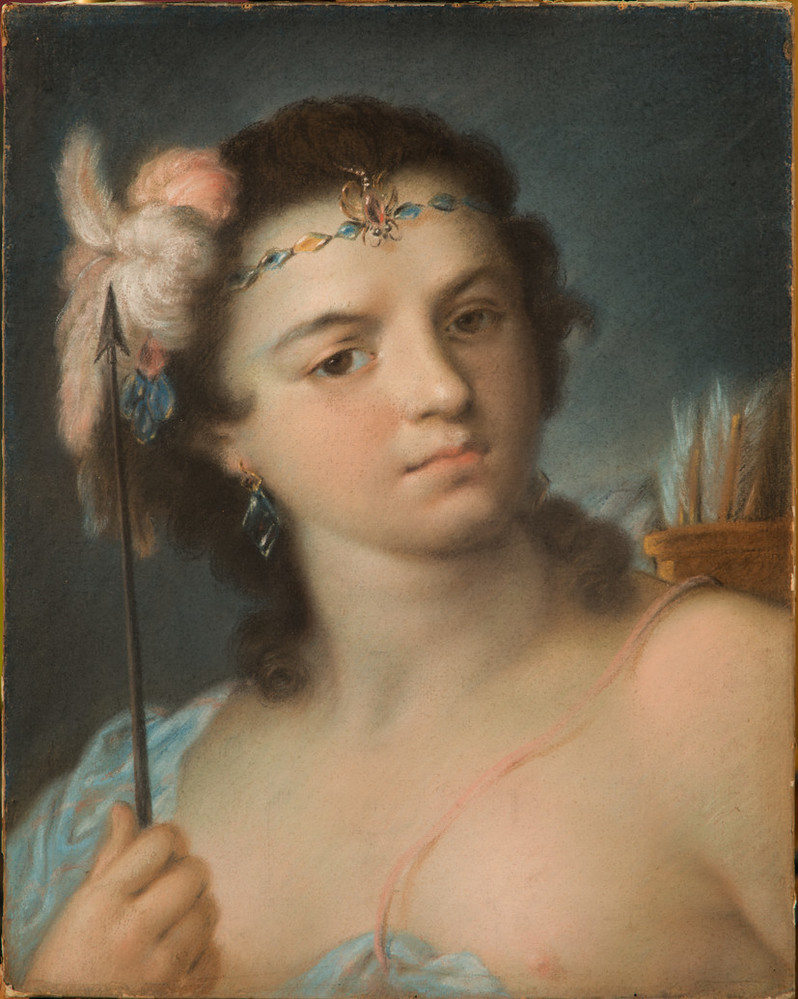 Rosalba Carriera's artistic production was cut short by the death of her sister in 1738 and her progressive loss of sight – that might have been caused by miniature painting – from the early 1740s onwards. She undertook two cataract surgeries, to no avail.
Still, thanks her connection to Antonio Maria Zanetti who secured her fame in England, King George III bought many of her self-portraits in 1762. Other similar pieces are located in the Uffizi Gallery. In these, she didn't make any attempts at idealising herself, highlighting her nose and dimples.
A new extensive biography, published during lockdown, is available here if your institution or Uni gives you access to JSTOR: www.jstor.org/stable/j.ctv15d8064.